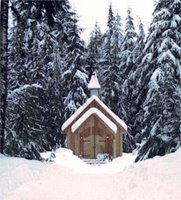 Things I love today: Winter weddings
I just found out that my best friend from junior high school, Elizabeth, is getting married on December 22! I think winter weddings are so romantic!
Decorating with pine boughs…twinkling lights…warm fireplaces…festive guests…snow! Okay, there is no snow along the coast of California, but you can always pretend. They are getting married at the Cypress Ridge Pavilion in Arroyo Grande. It looks like a perfect spot for a cozy reception!