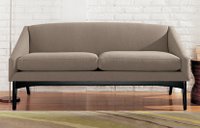 Painting: Match this color!
I've decided to hang the giant gold mirror in the front hallway of my apartment. To tone the gold down and make the entrance more interesting, I thought I would paint the wall behind it.
While I love using bright colors, I think it would be too much with all the gold. Ideally, I want to find a paint color that matches the "putty" color of my Room and Board sofa. Any ideas? Sherwin-William's Spalding Grey seems pretty close.