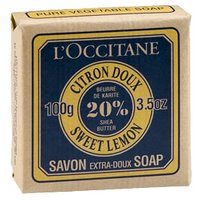 Things I love today: Sweet lemon soap
This shea butter soap smells so lovely! Nicole helped me pick it out at L'Occitane downtown last Sunday. I haven't used it yet, because I still have some Almond Shower Oil to finish first. I hope that it will help me combat my super dry skin.
In the meantime, the soap has been sitting on the coffee table making the whole living room smell nice.