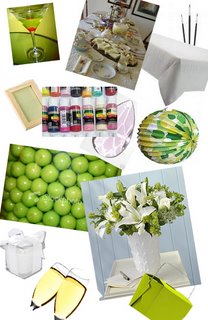 Party Recipe: LAC Anniversary
Now that the August Ladies Activity Club party is settled (we're playing bunco at Stacey's house on Wednesday), I can focus on planning the next party. I am hosting the club's first anniversary party at my house in September. I can't believe the club has already been together for a year!
I just ordered a set of wood picture frames and paint for our activity. I thought I would print up a bunch of photos from past events for people to put in the frames if they want. It would also be fun to dig up vintage women's club photos online and print some of those up too.
Along with painting activity, I thought a green and white color scheme would be festive. I love these lanterns from plum party, but they are a bit pricey at $6.50 each. These green carryout boxes are very tempting too! It might be easier to just buy plain white ones and decorate them with green ribbon though. What should I put inside?
For food, I am thinking about "lady like" finger food. Petite fours, tea sandwiches, etc. I am so excited for this party! Please share any ideas or suggestions you have in the comments section below!