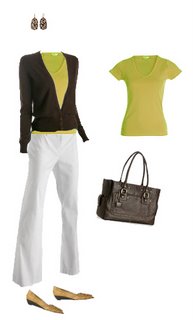 The colors for fall this year are so vibrant. I bought a tomato red sweater, a plum t-shirt and a chartreuse t-shirt on my shopping trip with Nicole last weekend. But how exactly do you wear these shades? I wore the tomato sweater with a navy skirt earlier this week. Today's challenge was to boldly go chartreuse!
Chartreuse t-shirt – On sale for only $9 from Club Monaco. Buying it was easy, convincing myself to wear it with my pale, freckley skin was a bit harder.
White pants – I have been wearing these favorite white pants (from Express I think?) all summer!
Brown cardigan – Essential for toning down the chartreuse. Mine is a bit chunkier and has an asymmetrical zipper.
Tan shoes – I should really buy these shoes from Delias. I have been using them in "What to Wear's" for months.
Wood earrings – Mine are similar but round and in dark brass.
Handbag – A dark leather tote like this is a must-have for fall.
This came out pretty well! It's a great outfit for transitioning from summer clothes to fall colors.