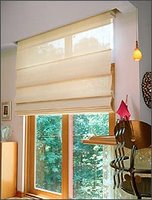 Sale Alert: Custom Blinds
I got a great deal on a custom roman shade from this company last night. Our living room window is a bizarre size (77.5 x 58.75) and it was looking like we were going to have to fork out over $450 for one roman shade. Our price was much, much less through this site.
If you are in the market for custom blinds or shades, check SelectBlinds.com out today. They have a 20% off sale that ends tonight.