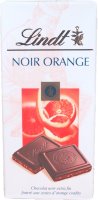 Things I Love Today: Noir Orange
I completely forgot about the two massive chocolate bars that Sara brought me from Geneva until just now. My favorite so far is the Noir Orange from Lindt. According to my not-so-excellent french translation, it contains candied orange peels and extra fine dark chocolate.
It is soo delicious! I think I may just eat all e 150g (?) myself!