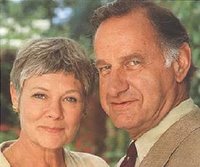 Things I Love Today: As Time Goes By
I am obsessed with this classic BBC television sitcom. "As Time Goes By" chronicles the romance of two people (Jean and Lionel) who first fell in love in their teens, were separated by war and reunited forty years later.
Judi Dench is fantastically adorable and Geoffrey Palmer is hilarious. I even love the set, it has the same layout as the O'Flaherty's house (family friends I stayed with in Dublin for a few weeks).
It's on KQED on Saturday and Sunday evenings here in San Francisco. Or you can buy the 11 disk boxed set online for a bargain $142!