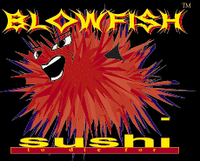 Things I Love Today: Blowfish Sushi
We were supposed to do laundry last night. Luckily Rob and I were already doing a great job of procrastinating when Matt and Amber invited us out for dinner at Blowfish. We dropped our projects (his, mine) and immediately drove out to Bryant street.
This relic of the dot com boom is a gourmet sushi restaurant with a Japanimation/techno theme. The fish is incredibly fresh and the presentations are very creative. We started with sake and pomegranate mojitos and followed that with the pyramid of tartare (always ask for extra chips), a great selection of rolls and sorbet for dessert.
The location is a bit funny, but totally worth the drive. I'm always amazed at how crowded this restaurant is on a weeknight. We would have needed a reservation if we had come later than 7:30. Currently, Blowfish and Cha-Ya are my favorite Japanese restaurants in the city!