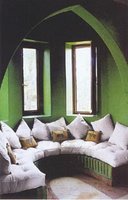 Party Recipe: Moroccan Night!
We're having a couple guests over for dinner on Thursday night and I've decided to go with Moroccan theme. I made a few jars of preserved meyer lemons a while ago and have an easy recipe for a chicken tangine. Our party is going to pretty low key:
Appetizers – I'll drop by Truly Mediteranean on my way home to pick up some of their delicious homemade hummus, dolmas and pita bread to get us started.
Drinks – Obviously, not a whole lot of hard drinking in Morocco, so we'll have to get creative. Something along the lines of these pomegranate cardamom martini would be fun.
Decorations – Bright orange and red table linens and flowers will make the table festive. I wish I had something brass! I think I'll wear my linen tunic just for fun too.
Dinner – This chicken recipe is easy to prepare a bit ahead and leave on the stove. I'm debating buying the authentic tangine dish. The chicken will be served along with Israeli couscous. I like the Israeli kind because the grains are larger.
Dessert – They also sell baklava at TrulyMed! I'll get some of those when I pick up the hummus. Combine that with some fresh fruit and mint tea and we're set.
Fisehatak! According to the internet that is "cheers" in Arabic!