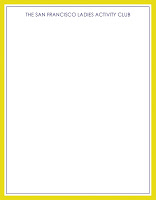 Things I Love Today: LAC Notepads
Every year, I like to make a "gift" for the LAC anniversary party. Last year, it was white pencils marked with our club name. This year, notepads!
I just finished the print order for these yellow and blue notepads (the yellow isn't so "mustardy" in real life). I can't wait to see how they come out when I get them next week!