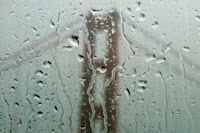 Urban Girl Almanac: Rainy Days
Whew! This week was short, but it was intense. Here's what I learned:
I hate going to the climbing gym when it is crowded in January.
Giving Comcast the boot felt SO GOOD!
This angled brush is my new favorite make-up tool.
My Marimekko umbrella is holding up like a champ in the storm.
My first attempt at cooking a roast chicken almost went perfectly, I accidentally put it in upside down. It took a minute for Rob and I to figure out what was wrong with the bird when carving.
The combo plate is worth the couple dollars more it costs than a falafel at Truly Med.
Going without a car during the storm of the year is challenging.
Being a native Californian, I'm a big wimp when it comes to weather. The wind gusts this morning were so scary and we're on for lightning tonight…yikes.
These little floss picks are helping me with another New Year's resolution. I just take one with me when I read in bed.
Did you remember to send your thank you notes for holiday gifts and parties?
With our lack of a car and this terrible weather, it is shaping up to be a quiet weekend. I only want to rest, get a pedicure and see a movie.