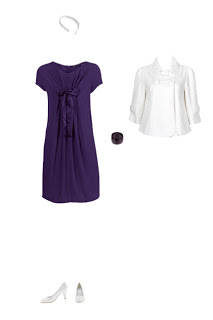 What to Wear: 60's Wedding
A costume wedding? That's pretty fun! Here is Jodee's request:
Hi, I am writing with a little fashion emergency. My husband and I have been invited to a wedding in Palm Springs this January at the Cosmopolitan Estate. The catch is that it is a 60's theme wedding. The invitation said "think breakfast at tiffany's for the girls". I also need for the dress to be somewhat modest. I need the sleeves to be at least cap, the length to be at least 'just above the knee', and not too low cut in the front or back.

I know, so many restrictions! That is why I need some help. I have never even watched breakfast at tiffany's and have a hard time finding nice clothing as it is with my restrictions so a 60's dress that fits all this criteria is proving to be harder than I thought! The wedding is in the afternoon and the cocktail hour and reception immediately follow. It should all wrap up around 9pm but we have been advised to wear a shawl, coat, or sweater cause even though it's in Palm Springs, it still gets cold in the evenings.
Don't be tempted to go too crazy with the costume. "Breakfast at Tiffany's" is a far cry from "60's Austin Powers Flower Child." Best to toe the line with this one:
Dress – Any one of these short little shift dresses that are in style now would work. Since it's an evening wedding, I wouldn't scrimp too much. This elegant dark purple dress has some serious style cred beyond just being a costume. You could pair it with dark tights and black flats for a more modern event.
Shoes– White round-toe pumps are an upscale interpretation of those white 60's go-go boots.
Headband – A white headband is a must-have accessory with your beehive.
Bracelet – A thick plastic bangle in eggplant.
Coat – A mod little jacket in white.
Go for dramatic cat-eyes and nude lips with your make-up. And get your date to wear a pair of retro thick frame glasses found at a thrift store with his suit.