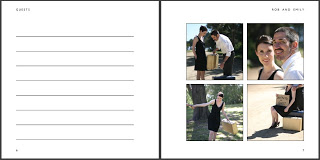 Wedding Wednesday: Guest Book
I love when two wedding dilemmas have one answer! What to do with the gorgeous engagement pictures Paul took? What to do about a guest book for the wedding?
Voila! Make a photo guest book at Blurb.com. Meg gets credit for turning me on to this idea!
For about $25, you can make a lovely hardback book with your photos and pages for guests to sign. The design software is super easy to use and there are fun layouts to choose from. Our book is mostly full page shots, with a couple of these quartets thrown in.
When I told someone about this idea, they asked "but what if they mess with the photos, draw mustaches on you and the like?" My answer is: that would be even more memorable.