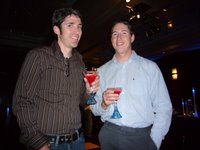 While you guys have been busy being brilliant for Reader Appreciation Day, I've been out and about in San Francisco. It's a busy week full of fun, free activities. Here's the scoop:
Tuesday night, Rob and I snuck Seth into the Bombay Sapphire Perfect Pairings event at the W Hotel. Delicious cocktails and food that was even better because they were totally free! Here's the guys with the raspberry lime martinis:

After filling up on drinks for an hour, we walked over to Beard Papa for giant Japanese cream puffs. I looove this place:

And to complete our backward evening, we then went to sushi for a few rolls before calling it a night. It was super fun!
Wednesday night, we went to The Warfield to see Scissors for Lefty perform at the SF Weekly Music Awards (Did you catch them in their undies on the cover this week?). We bought the cheap tickets but somehow made it into the $50 section full of free food. Scissors for Lefty had an awesome show:

The only downside was this blonde girl standing behind us who was talking on her cell to someone in the balcony. In the loudest voice every she kept repeating "I'm waving! KayKay! I'm waaaaving! I'm waaaaaaaving!" After a few minutes everyone around her started waving too in the hopes that this mysterious KayKay would finally spot her and she would stop "waaaaving."
We left the show early after SFL was done and made it home in time to watch Project Runway. I am so disappointed that Jeffrey won. He definitely does not poop sparkles in my book. I'm taking some visiting co-workers shopping tonight, but other than that it should be a quiet evening.