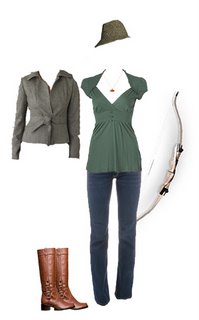 Reader Appreciation Day Winners
Honestly, I was blown away by the responses to yesterday's contests! I had no idea there were such creative people lurking on the site. You guys are all fabulous! But there could only be three winners:
Contest 1: Shoe Quiz
Rob's sister Skye won this challenge by correctly matching all four pairs of flats with their stores. She's getting a set of custom embroidered cobalt blue dishtowels!
Contest 2: What to Wear
This is where you really impressed me! I loved all of the outfits. Lots of tweed, layers, boots…you've been paying attention! After a lot of deliberation I chose Courtney's outfit (pictured) as the winner. Courtney needs to email me her address so I can send her a gingerbread candle from L'Occitane.
Contest 3: Why I Don't Like Whales
Trent found the scariest video ever and jean brought up my accessorizing foibles…but in the end it was Haley's four reasons why I should like whales that won me over. "They poop sparkles" is now my favorite catch phrase. Haley also needs to email me her address so I can send her a copy of the book, The Design Mix.
Congratulations to our winners! And many, many thanks to everyone who participated. Our first ever Reader Appreciation Day was a huge success!