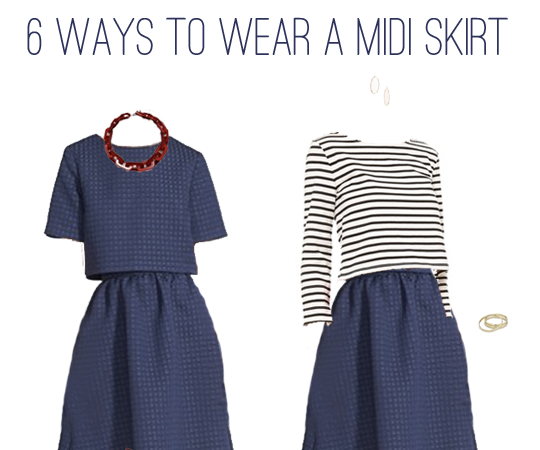 What to Wear: 1 Navy Midi Skirt, 6 Outfits
I finally purchased a midi skirt last weekend, after months of searching. This Topshop waffle weave midi skirt in navy was on sale for $60 as part of Nordstrom's anniversary event, but even at full price it is pretty affordable. The sizing runs small; I'm usually a 0/2 and the 4 fit just right. Silver exposed zipper in the back, a nice high waist and a thick fabric that gives it a great "poofiness." Now…to figure out how to wear it.

Option 1. The full monty. I didn't realize the skirt came with a matching navy crop top until after checking out and deliberated before on buying it. Together, it's quite a look. A bit boxy from the front, with a view from the side that makes your waist look tiny. Somehow super classic and so modern at the same time. Pair it with a pair of dark red peep toe pumps that have a twist of their own and a modern statement necklace.
Option 2. A different crop. The trendy crop top + midi skirt look with something different on top can look more casual. Try it with a boxy stripe crop top, coral sandals, gold bangles and drop earrings.
Option 3. The Carolina Herrera. The crop tops are all well and modern, but the midi skirt is most comfortable to me with a classic white blouse pairing. Add a navy belt, those red pumps and gold button earrings to complete the look.
Option 4. Soft chiffon tuck. In this version, a patterned chiffon blouse softens up the formidable skirt. Add a skinny green belt for structure, white wedge sandals and a small salmon crossbody bag.
Option 5. Sweater set. A bright blue cashmere sweater sets off the slate color of the skirt and makes an elegant pair. Use gold accents in ankle strap pumps, a set of bangles and a beaded clutch to tie it together. I think this is my favorite option.
Option 6. With a tiny tank. A silky tank works well if you live somewhere where summer is actually warm (aka: not San Francisco). Use the same green belt, off-white sandals, a green beaded bracelet and a pair of vintage-stye sunglasses.