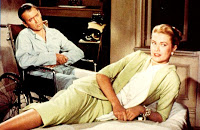 Party Recipe: Movie Night
Our new television is so huge! Rob and I have had a 17 inch LCD tv for the last five years. It was great, but pretty tiny. Our new TV is 40 (!) inches and the difference is incredible. We're working on building it a new home in our living room closet (it used to house a murphy bed) using Elfa this weekend. Once it is all set up, I want to throw an occasional movie night party for a few friends. Here's the recipe:
Pick a good movie – A new DVD release would be good, but it would also be fun to choose something older so it wouldn't matter who had or hadn't seen it already. Rear Window (my favorite Hitchcock film) is a great choice.
Cook something easy – Fancy nachos with shredded chicken or hot dogs with gourmet sausages are a fun play on "movie food" and can be easily eaten in front of the TV. For Rear Window, you could recreate a 1950's TV dinner with fried chicken, homemade mashed potatoes, green beans and apple cobbler.
Serve casual drinks – Beer and soda in bottles will keep things easy and relaxed.
Offer gourmet caramel corn for dessert – Put out bowls of different types of sweet popcorn. I love this super fancy Dale and Thomas popcorn, but the Trader Joe's variety is perfect too.
Create a game – See who can spot Hitchcock's signature cameo in the film first.
Fun! I can't wait to throw our first movie night party!