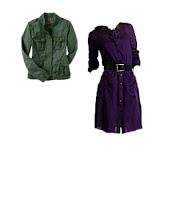 Inspiration: Orchid and Olive
Rob and I got stuck in the mission last night with a friend from Atlanta. A sudden rainstorm made taxis impossible to find. We ended up walking in the cold rain (our friend was only in a t-shirt) to the Bart station and managed to get him back to his hotel only halfway drenched. We warmed up with three shots of Patron at a bar next door before catching a cab home.
Anyway, it was actually really warm earlier this week before it got all cold and rainy. And when it is warm in the city, our resident's dress with some serious flair. I saw a cute interior designer waiting for the bus wearing a purple dress and olive green jacket similar to this outfit and was instantly inspired.
What a fantastic color combination! I wonder if I could use this for wedding colors without it being too dark?