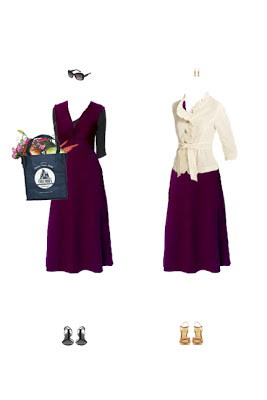 What to Wear: Patagonia Dress
More What to Wear catch-up, I still have over a dozen requests in the queue. Kariane has the right dress, but the wrong weather. She needs layers to go with a new favorite:
I just started reading your blog via Oh Happy Day and love your posts. Your What to Wear posts make me wonder if you could help me with a dress I recent bought. I have the Bandha Dress from Patagonia in the morel color. It's like a plumy purple.

Here's the part I need help with. I can't find accessories for it that I like. I live in Alaska, so I need to have a sweater for the summer time. I was thinking like a short-sleeve sweater, maybe gray… I just can't find any I like. The twisted neckline always looks too busy under a sweater or a jean jacket…

Also shoes… Being from Southern California originally, I am HUGE believer in flip flops. But I also like the idea of dressing things up a little bit. I am a stay at home mom of a four year old and a two year old and I've really been feeling the lack of fashion in my daily wardrobe (jeans, t-shirt, long underwear, you know, disposable clothes that are great for getting through a day with messy small people).

So I thought I'd have a cuter, hipper option with shoes for this dress. I don't like all the flat out there right now. I like the wedge-y sandals but don't want to go too crazy or the other end of the spectrum, looking like I'm on my way to a game of mahjong. Any ideas would be welcome. There aren't a lot of shopping options up here and I feel like I have hit every online retailer I can think of.
The high waisted, flowy cut of this dress doesn't make layering easy. Here are two ways to work with the dress: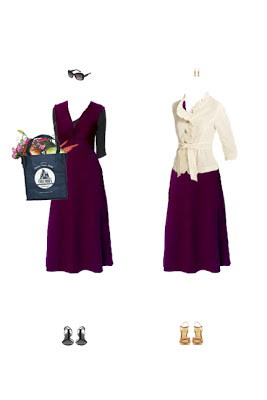 Casual
Dress – Well reviewed cotton jersey dress from Patagonia.
Tee – Try a long sleeved tee under the dress. Gray, ivory or white are all easy matches.
Shoes – The length of the dress looks a little tricky. Depending on how tall you are, you might want to have it hemmed up a few inches. Flip flops would be great, or these black wedge sandals that give you a bit of height.
Sunglasses – A basic black pair.
Dressy
Jacket – A ruffled linen jacket. The trick here is to find something cropped close to your frame and belted to give structure over the dress. A loose jacket or sweater will just make the whole thing frumpy.
Sandals – A grown up pair of sandals for date night.
Earrings – On sale from Anthropologie.