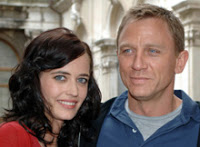 Hair today, gone tomorrow
Yesterday was my final day as a redhead! I went to the salon last night and asked my stylist to give me Eva Green's dark hair from Casino Royale. Now I am a raven haired beauty instead of a fiery red head! What I've learned so far:
Much easier to be mysterious with dark hair than with red.
The people on the bus may not know your name but they will comment when you change your hair.
You need a few extra layers of eyebrow pencil and mascara with dark hair.
It's a lot of fun to spook your co-workers when they don't recognize you.
Dark hair makes my big blue eyes even bigger and bluer.
Nikki at G-Squared is a blow-out master.
Now I just need to go shopping for a fresh wardrobe and updated make-up to compliment my new look!