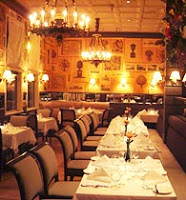 Restaurant Review: Fly Trap
Why on earth they decided to name this San Francisco restaurant "Fly Trap" when it was originally founded in 1906 is beyond me. Although, now that I think about it, there was a fruit fly circling around my wine glass when we ate there last night for a business dinner.
This restaurant is a relic in many ways. The decor is very Victorian and a large part of the menu is straight out of the 1950's. I had no idea people still ate things like Oysters Rockefeller, Celery Victor, Chicken Florentine and grilled calf's liver.
For my part, I started with the escargo and followed that with the limestone lettuce salad, which did live up to the hype. My entree was a special of sauteed chicken with mushrooms and mashed potatoes that was good but unexceptional. Pair all this with a few bottles of 1983 vintage Italian wine and follow it with chocolate cake…I'm amazed I managed to waddle home when our meal finally ended at 11:00.
The one downside was the service, but I think it was mostly due to the large size of our group. Smaller parties seemed to get through much quicker. The cozy atmosphere and traditional menu of this restaurant would make it a good place to take someone on a date.