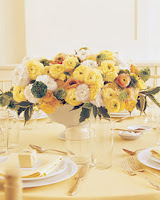 Inspired: Footed Compote Arrangements
I've decided (at least for now) to make my own centerpieces for the wedding and pay a florist to the bouquets and boutonniere.
We have the club reserved for the days before and after our wedding and they have a huge fridge where I could store the arrangements on Friday. Plus, I live near a rocking wholesale flower market, only need to do about 12 arrangements, am semi-competent in the floral arts and have friends who have volunteered to help.
I'm starting to collect ideas and photos for inspiration. I really like this yellow arrangement from Martha. Imagine it with garden roses and other flouncy things instead of ranunculus.
It seems like every single reception centerpiece in magazines is in one of these "footed compote" bowls. But I haven't been able to find them for sale anywhere. The hunt continues!