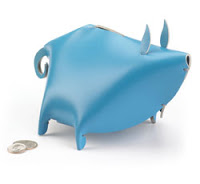 Things I Love today: Blue Leather Piggy Bank
Gung Hay Fat Choy! Did you remember that the Chinese new year started last weekend ? (I didn't) Luckily, the big parade in Chinatown isn't until March 3. I still have time to celebrate the year of the pig!
This a adorable blue leather piggy bank would be a great way to ring in the new year! Isn't he cute? The bank is part of MoMA's Argentinian designer spotlight. I think he'd work quite well as a laundry money carrier!