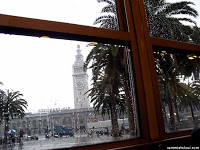 Urban Girl Almanac: Sweet Tarts
It has been a rainy and busy week! Largely, my evenings were consumed with the epic task of baking a lemon creme tart. Don't laugh, it was really tricky! Let's see what I learned this week:
Rolling out pastry crust is something that needs to be done very quickly and without flipping over the dough.
LOST, I'm hooked again.
They have nice porcelain baking pans at the Ace Hardware on Market and Church.
3 days of cooking, about $100 in supplies and half a bottle of champagne adds up to this lovely treat.
The tenants upstairs are moving out. I have my fingers crossed for a new neighbor who doesn't stomp about in high heels all day long.
Goco Printers are magical appliances.
Jewelry Week was fun! Don't forget to go to the opening of the Masterpieces of French Jewelry exhibit at the Legion of Honor this weekend.
Unfortunately, I won't be there because Rob and I are driving to Weaverville instead to visit with friends.
But you can catch me back in the city on Sunday watching Scissors for Lefty play the Grammy Party at the Hard Rock Cafe. Check out the SFL tour schedule, they're going to be all over the country over the next weeks.
Have a great weekend! See you next week for all sorts of non-jewelry related posts.