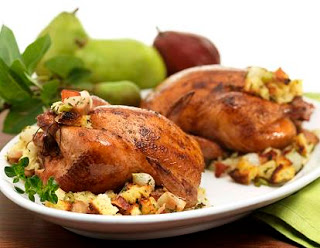 Recipe: Easy Mashed Potatoes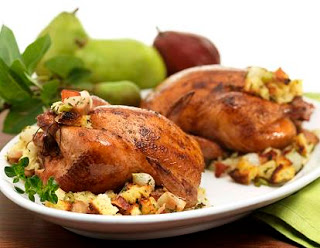 We had a couple friends, including the lovely Susan, over last night for a casual dinner,. A couple cornish game hens roasted with shallots and orange zest, a big salad with beets and mango and easy mashed potatoes.
This recipe is cribbed from my mom, who learned it at a cooking class recently. I used to use red potatoes, but this recipe yields a faster, fluffier version of the classic:
Easy Mashed Potatoes
4 basic russet baking potatoes
4 tablespoons of salted butter
1/4 cup of milk
Salt, pepper, truffle oil (optional)
Cut the unskinned potatoes into even 2 inch cubes while raw. Dump them in a large pan with about twice as much cold water. Cover and put on the stove on high. Cook for about 30 minutes. Test by removing a piece and hitting it with a fork, it should sort of flake open into a fluffy mess when ready.
Strain and add back to the pot with the butter, milk and seasonings to taste. Lightly mash with a potato masher. Don't overdo it. They're also good with diced green onions added.