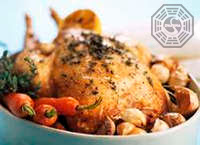 Dinner Party Recipe: Cornish Game Hens
We're having Jordan and Paul over tonight for a late dinner and LOST watching party. For the menu, I'm preparing something that has all the cozy feelings of a basic a rainy night dinner but with a twist. We'll start with a few basic crudites and follow that with cornish game hens paired with beluga lentils.
I'm going to repeat my favorite Epicurious recipe from a few years ago for the hens. All you do is make a mixture of chopped herbs, shallots and citrus zest and stuff it under the skin before roasting for about 30 minutes. The black lentils should be pretty easy too, just simmer some carrots, leeks and celery root in butter and combined with the boiled lentils. Yum!