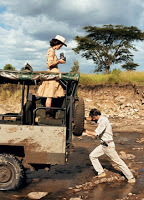 Inspired: Keira in Africa
Okay, okay. I might owe Vogue an apology. Earlier this month, I dealt them a backhanded compliment. Saying that I would continue to buy an occasional issue for the great photos, despite the terrible botox-soaked content.
I have to admit that the latest issue was pretty good. I read it at the hair salon last night. The feature on Keira Knightley in Africa was amazing and has me considering how realistic it would be to get this dress and two tickets to the savannah next week.