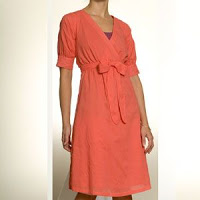 What to Wear: Michigan Wedding
More wedding outfit requests keep rolling. I don't mind though, weddings are a fun opportunity to find a perfect dress. Today's request is from Carol:
Here's the scoop. I'm about 5'4″, a size six on top and size eight on the bottom, with a very J-Lo butt. I have a small waist and decent, but short, legs. I am not crazy about showing off my upper arms, but I would be willing to go with a really great sleeveless dress if it didn't attract attention to them. I have a short dark brown bob, green eyes and fair skin.

I tend to wear a lot of black, so I'd love to wear something that pops, color-wise. I'm open to just about any style, but long dresses tend to make me look squat.

The wedding itself will be held at a Catholic church in the middle of the day. I won't change clothes before heading to the 5 p.m. reception at a nice restaurant in the same town. I'd like to keep the total ensemble under $200. Maybe $250?
She sounds adorable! I found what I think will be the perfect dress for Carol right off the bat (as you can tell, my photoshop is still broken):
Dress – On sale for $57 from Tulle. The color (bright), sleeves (present) and cut (flattering) seem perfect from Carol's figure. I would probably switch the "bow" in the front with a different knot if I was tying the sash myself.
Shoes – A traditional style pump in leg-lengthening beige.
Earrings – These gold and coral drops from Anthropologie are a bit of a splurge, but super pretty.
Bracelets – Metallic painted wood bangles from Forever 21 for $6 tie the whole thing together.
Have a great time at the wedding Carol!