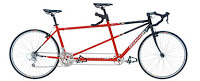 Rob bought this Raleigh tandem bike a year ago on super discount. I was originally skeptical (I'm a terrible bike rider) but it has turned out to be so fun.
This particular model is a road style designed for speed. Jean and Trent even once borrowed it for a 200 mile race. Rob has decked me out in gloves, chamois shorts, shoes and a helmet and found a way to mount the GPS to my handlebars in the back. We look pretty serious with all this gear when riding around the city.
Under tandem "law," he's the captain and I'm the stoker. That means Rob is in charge of steering, starting, stopping, breaking and communicating. All I have to do is pedal and navigate, which is perfect!