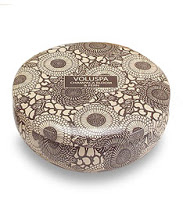 Things I Love Today: Champaca Bloom & Fern
Anthropologie….why are you always equal parts amazing and frustrating? The best dressing rooms in the city & always a line. The coolest clothes & so, so many of the oddest. The massive number of scented candles you keep burning at all times (honestly, is it one person's dedicated job? do you have to keep a candlemaster on staff?).
I bought this enormous Voluspa candle at Anthropologie on Saturday. The scent is "Chapaca Blossom & Fern." Champaca being a sort of tropical magnolia and ferns…being without scent last time I checked. Anyway, it smells really nice, fresh and not too floral.