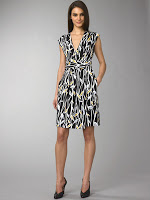 Passport Round-Up: DVF Dress
One my favorite scores from last weekend's shopping bonanza! This DVF Cassidy jersey wrap dress is simple enough for work and can easily be dressed up for dinner out or even a wedding. I wore it Monday with a black trench for my DMV appointment and photo.
The dress retails for $300+, I found it at Nordstrom rack for $125. The built in pockets are the best part.