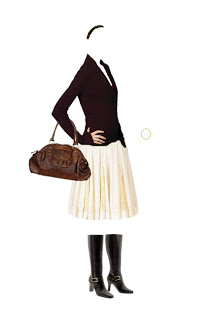 Ah, Fall! I'm already feeling your pressure on my wardrobe. Which is inconvenient since it's actually summer here in San Francisco. At least I can count on it always being suitably cold here at night for my thick sweaters. Here's a request from Sharmyn:
Here is my dilemma. My husband bought me a beautiful skirt from Anthropologie a few months ago. It is an ivory toile with pintucks at the top and battenburg lace insets. It also has a slight bustle in the back with a ribbon. It is sort of like this

Blanca skirt

but more formal and very feminine.

I really, really love it and want to wear it but I just can't figure out what kind of top to put with it. Tucked, untucked, blousy, tailored, jacket, twin set I would love to see what kind of things you come up with. My only stipulations are that I can't wear sleeveless or a plunging neckline.
The key to wearing a fuller skirt is to have something a little tighter and shorter on top. Belted jackets, turtlenecks, sweaters, really a ton of things can work. Here's one option for fall:
Skirt – Why does this Anthropologie link work but no others? I've probably just jinxed it.
Sweater – LOVE this. Want to marry it and wear it every day.
Boots – Nice little boots that don't cost a fortune.
Bag – From Forever21 believe it or not.
Headband – Tortoise is just right with this combo.
Bracelet – I have a version of this! Very delicate.
So cute! I love this outfit and hopefully so will Sharmyn.