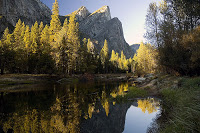 Our car is packed to the brim and we'll soon be Yosemite bound. This trip is part of a twice-a-year tradition with Rob and his old climbing/college buddies. I'm so excited to see all our friends and the valley lit up with fall colors. Here's what I learned this week:
Burmese food is amazing.
A "cobb" salad with turkey bacon, bleu cheese and black olives is delishious for dinner on a hot night.
I wore dresses three times this week, pretty good.
The whole process of selling a car stinks, except for the getting money part.
My unconscious purple clothing phase has moved to a blue and black clothing phase.
Kid Nation. I'm obsessed.
Need a dip for Halloween?
I've somehow gotten incredibly strong these past few weeks. Has Pink Cornflake turned me into some sort of superhero?
I want Robshaw linens so badly it hurts.
Mmmm…ahi tuna fish tacos with cheese, cabbage, lettuce and salsa on blackened corn tortillas.
Birthday Tartine bakery lemon tarts are the best.
Birthday vent-free fireplaces from Rob are also the best.
A loose french braid is my new favorite hairstyle.
Have a great weekend!