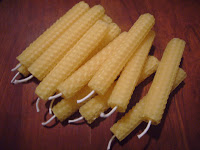 I've received a couple questions about my beeswax candle project from last year (thanks for the shout out Jordan!) That was such a fun and easy craft for the holidays. Here are step by step instructions:
1. Order a set of honeycomb sheets from Knorr Beeswax. You have to order a minimum of 20 sheets and it comes with some wick. I ordered the "natural" color and would recommend getting extra wick if you're making small candles.
2. When you have your supplies, take out a sheet of the wax and cut it down to the size you want. Cutting works best if you first fold it along the honeycomb pattern.
3. For the small 4″ candles I made, fold the sheet in half and cut. From that square, fold and cut it into 4 equal squares, about 4″ each.
4. Cut a piece of wick so that it is a 1/4 of an inch longer than the wax. Line it up on the edge and fold over the first "row" of honeycomb tightly on the wick.
5. From there, roll up the rest of the candle fairly loosely. Once you're finished, push down the edge of the wax to seal the candle.
Six or eight of these small candles makes a great gift! I combined them with honey bubble bath from L'Occitane and a bee cookie cutter. Experiment with different sizes too. A traditional taper starts as a piece of wax 4″x8″. As a plus, the wax smells great and will make your house smell really festive for the holidays. Even with making a lot of candles and having friends make them too, you'll still have quite a few sheets of wax left over.