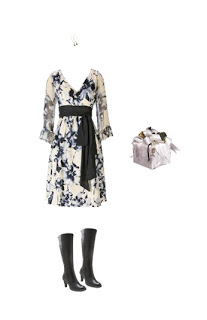 What to Wear: Black and Cream, part II
Remember the cream and black bridesmaid we helped a couple weeks ago? It continues:
My brother in law is getting married in Seattle in December. The siblings have been asked to wear black and/or cream. There are lots of black dresses out there, but none of them seem to call to me. I love a classic dress with a little something unexpected or retro looking. I need something modest – with sleeves and knee length or a little longer; even very long, if it is flattering. Also, it could be a skirt and top.

I want to be able to wear it again, so nothing too formal. Just needs to be the right colors for the pictures. I need to buy some black boots as well and will likely take your advice on the Nordstrom healed boots you posted recently. I am 5'7″ with medium length dark brown hair and wear a size 2 or 4. Thanks for your great style skills!
I can't quite decide if this is a cute idea or something a bit too oppressive. Is this common? Making your relatives dress according to a wedding color scheme? Regardless…here is my recommendation:
Dress – Don't tell anyone, but there's a bit of blue in there too. This $168 dress is flowy, flattering and perfect for a winter wedding in Seattle. (PS: link isn't working well, look under "graphic prints")
Boots – I think this is the pair she's talking about. I want to buy these for myself.
Earrings – Pretty pair from Etsy for $6.50.
Gift – You have to wrap it in cream and black of course.
I really want to see photos from this crazy event!