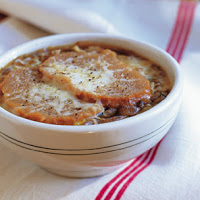 Recipe: French Onion Soup
I decided to make french onion soup last night in between laundromat trips. My grandmother loved this soup and I had it almost everyday during the last trip to Paris.
Step one is to thinly slice four red onions and four leeks. Wearing swim goggles during this step looks totally ridiculous…but then so does getting all weepy over a pile of onions. I used chicken broth instead of beef and red wine because that's all I had. Next time, I'll caramelize the onions for more like 50-60 minutes instead of 30 minutes.
I served the finished soup with stale bread and gruyère broiled on the top and a big green salad on the side. This would be a perfect Valentine's Day dinner, just be sure to make the soup a couple days ahead of time so your entire house doesn't smell like onion for your romantic evening.