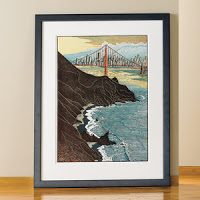 Coveted: San Francisco Print
This Japanese-style woodblock print of San Francisco from Marin is so, so lovely. If I had an extra $1,000 lying around, I would snap it up from Gump's in a second.
Luckily, a full grand may not be necessary. Tom Killion has a wide selection of his prints on his site for $75 to $425. Or cards and books for under $35.