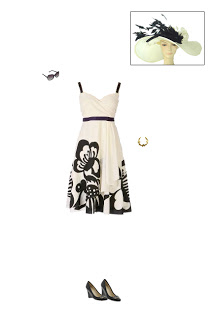 What to Wear: Kentucky Derby
Jessica has quite the event coming up in May:
I'm desperate. Haven't been shopping in a few years. First, I was trying to get pregnant so didn't want new clothes that I would quickly outgrow. Then (but not immediately), I got pregnant, and only shopped for essential maternity items. After that, was trying to lose "baby weight" and wouldn't shop until I had reached the goal. Now, baby a year and half old, goal weight attained and vacation planned. I need clothes.

Hubby and I are attending the Kentucky Derby in May and have nothing to wear. Hat? Dress? I'm lost. I love the looks I'm seeing out there but don't even know where to start. My style is probably best described as classic but I like to add a funky element or two to even the most classic looks, or at least I did like to. These days it's pretty much sweats, sneakers–pure comfort but not too cute. Think you can help? I'm pretty average size–5'7″, size 8.
Mint juleps, hats and horses. This is going to be a vacation to remember!
Dress – This dress has an updated classic style and a purple sash. Wear lots of sunblock on your shoulders.
Hat – There are so few places you can fit in while wearing a ridiculous hat. Do not miss this opportunity! You can probably save a bunch by finding a vintage hat or embellishing a plain one yourself. The crazier the better.
Shoes – These patent wedges are so perfect. Plenty of style, no sinking into the grass.
Sunglasses – Oversized and fun.
Bracelet – This horseshoe and riding hat bracelet will be a great conversation piece. (link)
Have fun at the races!