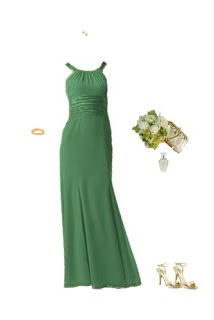 Ruth recently sent in a photo of a bridesmaid dress that needed accessorizing. I don't have a source for the dress. I think it would be best with minimal gold jewelry for a fresh, natural look:
Shoes – An adorable bow and ankle strap make these special occasion shoes more fun than usual.
Bracelet – Light bangles match the Greek feeling of the dress.
Earrings – Basic gold studs are so feminine.
Clutch – Vintage from Etsy.
Perfume – Night blooming lily from Jill Stuart. It's a bright floral scent that matches perfectly.
Have a great time being a bridesmaid!