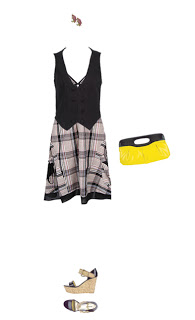 What to Wear: Business Trip Fun
Jessica has a big work trip coming up:
I am going on a business trip to Portland and Seattle in early April. Since I'm a physical therapist, the classes will be spent in shorts (your favorite, I know), so that part is all taken care of. What I really need help on is the social aspect. I went to grad school near Seattle and have a lot of friends left in the area. There is fellow in particular I am hoping will end up as more than "just a friend". So, I am looking for a fantastic outfit that will set me apart, but not actually look like I'm trying really hard. We are planning on hanging out (probably at Pike Place market and downtown) and eating dinner. I am 5'10 and a size 10, dark hair, pale skin and green eyes. My normal style is sort of French/preppy/casual mix. (I love a good navy striped shirt and a cardigan with jeans). I'm very excited to see your ideas!
Time to turn up the sexy, Seattle style!
Dress – Seattle is known for it's plaid grunge flair. Plus, plenty of cleavage.
Wedges – Imagine falling daintily into his arms when you slip on an errant squid in these wedges.
Vest – A vest is always a good idea.
Clutch – Yellow is so in for spring.
Earrings – Simply magnificent in feathers and gold.
April Fools! Here's what I think she should really wear along with a cute white cardigan, flats and light khaki trench.