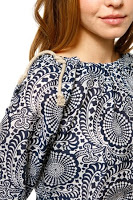 Sale Alert: Brooklyn Industries
The printed blouse I wore rowing on Monday is from our shopping trip the previous day. It's the Adrias Blouse from Brooklyn Industries on sale for $48, plus 15% off online or 30% in the store through tonight.
I don't know why the top looks quite so lumpy on the model, it is very cute in person. A light cotton and silk fabric with a fun pattern. Rope details at the neck and wrists. Ideal paired with white denim for a boating trip in Jackie O style.
I also picked up this blue jacket in the sale and Rob came away with some fun long sleeved shirts.