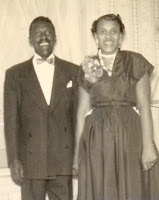 Thank you to everyone who donated to the Patrice Wedding Fund over the weekend! You did a great job, raising $95 in total to go toward her wedding dress. That's almost twice our goal.
Patrice sent some photos with her thank you. On the left, her adorable grandparents and style inspiration for the 1940's wedding. On the right, the soon-to-be newlyweds Patrice and Jason. I can't wait to see photos of her wedding in August.
Donations poured in from across the country and even Canada. Locations included: Wyoming, California, Washington, Oregon, Montana, Colorado, Connecticut, Massachusetts and Texas. I'm blown away. Thank you, thank you, thank you!