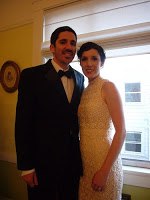 Weekend Round-Up: Black & White Ball
Between last weekend's Manhattan marathon and this weekend's ball…this is certainly shaping up to be a summer to remember. I had such a fantastic time at the Black and White Ball. It surpassed my expectations by quite a bit! Here are all the photos.
First things first. We met our friend Peter at Trader Joe's after work on Friday and shopped for dinner supplies. He and his wife had us over for a relaxing "kitchen" dinner. Together we made a really good garlic mahi mahi with a beet carrot slaw and mushroom risotto. After dinner, we watched Atonement (I can't be the only one who thought that was a really odd movie). Walk home and to bed around midnight.
I woke up on Saturday morning feeling a bit of that cold. Good thing I had only planned was to rest and play Lego Indiana Jones. I have a soft spot in my non-gaming heart for these lego kiddie games. Big oatmeal and coffee breakfast.
Nicole arrived around 1:00, when I was finishing the third level. We took the subway downtown to run the rest of my ball-prep errands. I bought yet another pair of gold shoes to go with my dress at the Nordstrom sale (the fourth if you're counting. I'm returning two tomorrow) and a pair of Spanx. Make-up from Sephora. Hairspray from Walgreens. Frozen yogurt from Icebee.
Back at home, Nicole played Indiana Jones with me as I prepped. I let my hair air dry in to soft curls and gave myself a french manicure. Pizza from the place down the street and then the full cosmetic push. My hair went up pretty easily with about 30 pins and half a bottle of hairspray.
Makeup was next. I went with a gold/brown/plum look. Fake eyelashes and plenty of bronzer. Not too shabby! My $40 vintage dress pulled its act together when paired with the hair and make-up.
By the time we were both dressed and "prom" photos taken, our friends were at the door to pick us up. We found a parking spot near Civic Center and walked over. It was a pretty cold and windy night, but spirits were running high.
As soon as we got inside, we found tables full of champagne and a massive catering set-up. A big table with all kinds of sushi. Another with lots of chocolates and desserts. Another with salads and hot foods. Our German friends were so excited that they were serving wienerschnitzel. We loaded up on some snacks and walked to get our bearings. Our first stop was the opera house where they had a Brazilian band playing and gray goose bar setup. From there, we walked over to the decked out tent pavilion where there was a swing band and a lot more food. I easily ate my ticket's worth of shrimp cocktail!

From there, we walked to the symphony hall and accidentally managed to sneak into the VIP section for the last 20 minutes of the Seal concert! Amazing view and we saved $600 on the tickets. Very good show, especially 15 feet from the stage!

When that ended, we walked back past Blues Traveler to the Veterans building to dance to a 19-member funk band called Dick Bright's SRO. I was a little worried that the crowd was going to be older or stuffy at this event: so not the case. Everyone was dressed to the nines and having the best time. I even got some compliments on my dress.

Close to midnight, we nabbed a good spot near the main stage for the big surprise. A wild marching band came out and a Beatles cover band led us in a sing along while a massive fireworks and confetti show exploded over city. So fun! After the show, we grabbed more desserts, wine and went back to the tent to dance to an Americana swing band (and eat more shrimp!). All those country swing moves I learned in junior hight PE came in handy! We dipped and spun all over the dance floor.
It was 1:00 am before we knew it and time to head home. Our friends dropped us off and we "brought the party home" waking Nicole up 🙂 To bed with two aspirin and a big glass of water.
Up at 10:00 the next morning feeling a little worse for wear, to say the least. 99 problems, but my cold wasn't one. I think I killed the virus with all the champagne! We had some coffee and played more Indiana Jones all morning. At 1:00, Nicole and I went for pedicures and grabbed lunch from Burgermeister. More video games and fun at home recuperating. Nicole left at 6:30 and I cleaned house and got ready for the week ahead.
I cannot wait for the next Black and White Ball! It was so worth the expensive tickets and tux rentals. Definitely the most fun I've ever had at a San Francisco event, and that's saying a lot!