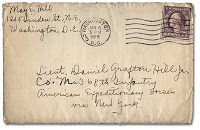 Wedding Wednesday: Blue Skies
Well done, commenting public! You far surpassed my expectations with your nice notes. The number I had picked was 11, the number of letters in the volunteer's name. Since there were so many of you, I've expanded it to three winners. Congratulations to:
Logan
Gracie 73 (Your cheeseburger festival story is too bizarre)
Ecru (the last comment I saw this morning)
Send me an email with your shipping details and your special present will be off in the mail shortly. I feel so much better already! And the weather is cooperating too. It's a perfect 70 degrees and sunny today.