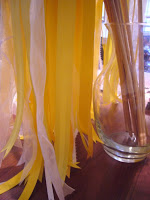 Wedding Wednesday: DIY Update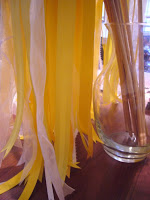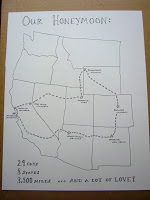 More projects checked off the list!
First, the ribbon wands. Rob helped me cut 18″ wood dowels and drill small holes through the ends. I cut three pieces of different 36″ yellow and white ribbon for each dowel. Then, I sewed the ribbon on through the hole with embroidery thread. Altogether, I made 21 wands. Combined with the birdseed tossers, we're in for a bright and exuberant exit from our reception!
I also worked on a hand-drawn map of our honeymoon route. I'm going to finish it tonight with color and find a frame. It will sit with one of the small vintage suitcases on our gift and guestbook table.