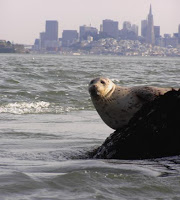 Weekend Round-up: Busy Bees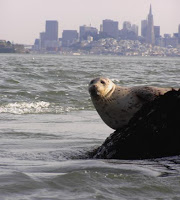 Big, big weekend! I highly recommend having a three day weekend two weeks before your wedding. We checked so many things off the to-do list.
On Friday, I had my hair test at the salon. I think my loose curl, low bun look is going to come out really well. Back at home, Margaret came over for dinner (tilapia, rice and a big salad). We watched a cute movie and then turned it pretty early.
Up at 8:00 the next morning to get dressed, eat breakfast and dash out. We picked up Matt and Amber in Russian Hill and made it to Sausalito at 10:30 for kayaking. It was a perfect sunny day for a little paddling.
Back in the city at 12:00 to drop off Margaret so she could get to work in Burlingame. Matt, Amber, Rob and I went to brunch at Axis Cafe. The food is great here, but the service can lag on the weekends. To Sports Basement after brunch for some shopping. We dropped our friends off at their apartment around 2:00 and drove straight over to pick up Nicole.
My wine-industry-expert bridesmaid was a fantastic help at BevMo. We took big advantage of the five cent sale, buying 16 bottles of champagne, two magnums and three types of red wine to test out. We dropped Nicole off and came home to zonk out for a few hours.
At 7:30, we walked down Market Street to join Matt and Amber for dinner at Sushi Zone. This tiny restaurant (two tables for 4 and a bar for 8) had a long wait but was so worth it. Delicious rolls! Dinner ended around 10 and we walked up to see our friend's band – Scissors for Lefty – at the Rickshaw. We met up with five more friends at the show and rocked out (a little too much…poor ears!).
The show ended at 1:00 and we all went to It's-Tops for dessert. Between the five of us, we ordered a root beer float, banana split, chocolate cake and a hot fudge sundae. Heaven!
Rob and I slept in until 10:45(!) the next morning. A much needed bit of rest. When Nicole called at 12:00, we had barely gotten through breakfast. I quickly dressed and took the train downtown to meet her for a marathon shopping trip. We found shoes for my second wedding dress, a pashmina to match, a silver frame and loads of make-up. My list was pretty much checked off when Rob came down to meet us for dinner at Zazil. Back home on the train, exhausted! (we couldn't get tickets to the Beck show, bummer)
Another nice sleep in on Monday morning. I very much needed this long weekend to prep and relax before the wedding! We had breakfast and watched some Cosby reruns before heading back downtown for the last bit of wedding shopping. We found shoes, ties and a shirt for Rob. Lunch was a nice picnic from Posh Bagel in Union Square.
Back at home, we tasted our three wedding wine options. This was our favorite. Lots of cleanup and finishing up more wedding tasks. We're almost there!