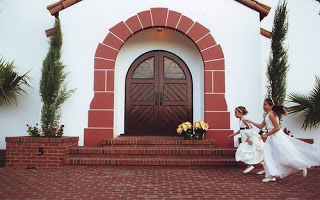 Wedding Wednesday: Locations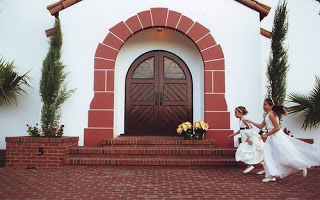 The hunt for a wedding venue continues! Jean and Trent are looking for a low-key, fairly inexpensive ($1,000 to $2,500) place that would seat 100. In Northern California, near an airport and hotels. And ideally, in a wooded area, near the ocean and/or mission style.
Here's what I've found so far:
La Perla Del Mar – A sweet little mission style church and reception hall in Shell Beach near our hometown and the ocean.
Lucie Stern Community Center – Another mission-style venue, this time further north in Palo Alto.
Mission on the Hill – In Vacaville – near Trent's hometown – and with very few details on the site. Looks pretty though.

Oz Farm – Expensive, but a lovely farm location up in Mendocino.
Mountain Home Inn – I've had lunch here before – pretty fancy – but a nice location up on Mount Tam in Marin. Here are other outdoor wedding sites in the region.
Presidio – San Francisco's own woodland, ocean-facing, historical area. We have friends who were married in the little chapel by the cemetery and had their reception at the log cabin. It's nice because you're in the city, but it is an open space with lots of parking.
Know of any other hot locations we should be considering?