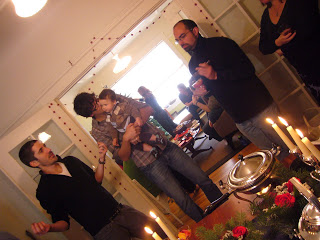 Party Recap: Holiday Brunch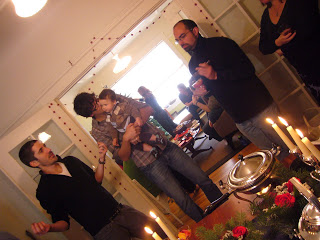 What a great party! I didn't have much time to plan. Thanks to Trader Joe's and your ideas everything came out well. Here's the quick run down for this year's holiday brunch.
Food:
Giant glazed spiral cut ham
Skewers with tiny red potatoes and spicy chicken sausage
Mini bagels with lox and capers
Spiced citrus salad
Skewers with red pears, camembert and beets
Goat cheese and cranberry relish on toast squares
Mini cinnamon rolls
Drinks:
Make your own mimosa bar with a magnum of champagne, pomegranate juice and orange juice
Coffee
Hot cider
Tea
Activities:
A bowl full of ornaments to hang on the tree
An adorable nine month old baby (he likes capers!)
Christmas music
Decorations:
Lovely Christmas tree
Arrangements made of branches from the bottom of the tree combined with red roses and white status
Lots of polished silver and candles
Click here for more photos from the party! We're almost done with the dishes now – ah, the life of the dishwasher-less entertainer.