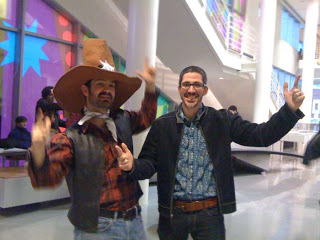 Weekend Round-Up: Apartments
This apartment was packed with holiday cheer, rainy downpours and a great deal of apartment hunting.
On Friday, Rob and I rode the train home in the middle of a rainstorm. At eight the rain let up and bit so we walked over to my friend Kellie's house in the mission. Along the way, virtually every boutique was open late with live music in order to bring customers. We saw a jazz trio, DJ, violinist, mariachi band, guitarist, saxophonist…all in these miniscule little shops.
The party was a lot of fun! An impromptu Christmas tree decorating event with plenty of eggnog. I must have had two pounds of shrimp cocktail with spicy cocktail sauce over the course of the evening. Back home after 11, accidentally leaving my camera behind for the weekend.
I slept in a bit the next morning. Not too much since we had a lot of apartments to go see in the rain. Apartment hunting always seems like it would be fun – and then actually is a huge time sink. We saw three places that didn't work out before returning home to get dressed up for Dance-Along Nutcraker at 2:30 with Margaret. Our friend Greg plays in the band for this annual song and dance bonanza, this year with a western theme. It's hard to describe, but let's just say that the plot was resolved with a dance-off and the group with a pirate, water nymph & seahorse theme didn't win.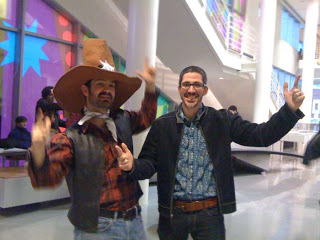 A quick dinner at Chevy's after the show as a fundraiser for the band. Still raining, we made it back home around 6. A short time to relax before going to Alison & Joel's holiday party in Hayes Valley. Another great holiday event – this time with homemade pretzels and sidecar cocktails. Rob and I returned home at midnight.
Sunday was all about apartment hunting. We had six viewings throughout the day – driving from Diamond Heights to Hayes Valley to Dogpatch. We had hot cups of tea and a copy of the Sunday Times with us in the morning, delicious sausages from Rosamunde Grill for lunch. A couple good leads but still nothing definite. A long day.
After our last viewing at 5:00, we returned home to relax. A tasty fondue dinner and finally a chance to start on my Christmas cards.